Covid House Cleaning Services
Our professional cleaning team is trained to perform a proactive cleanup that involves cleaning and sanitization.
Since the beginning of 2020, COVID-19 has caused a lot of stress, anxiety, and disruption. If you or your family have had COVID or you think your home has been compromised in any way, Gateway Cleaning Services is prepared to clean and disinfect your home according to the guidelines set out by the CDC.
We provide professional disinfecting and sanitization services to help combat the spread of bacterial and viral pathogens, including SARS-CoV-2, throughout the St. Louis Metro Area.
---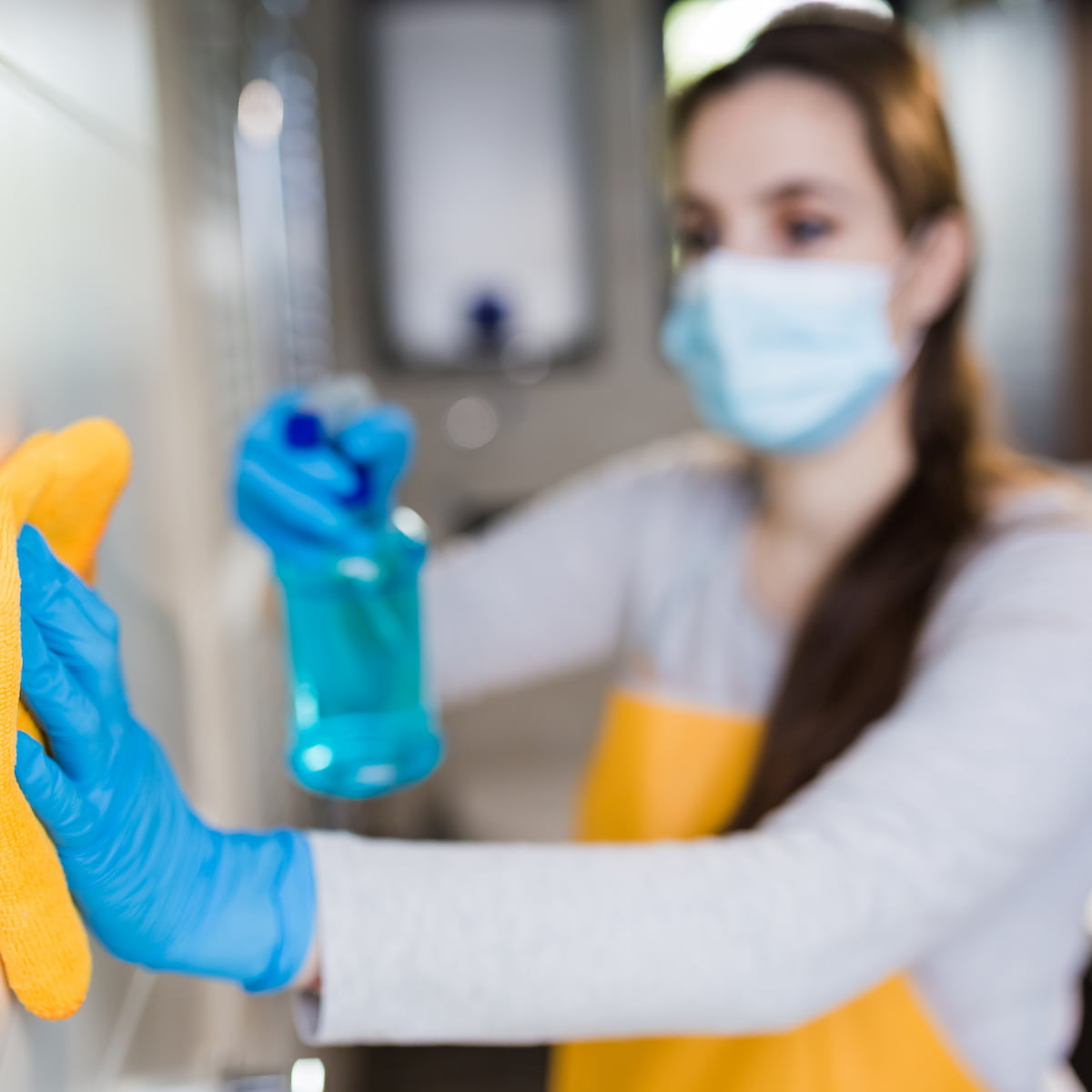 ---
Cleaning House After Covid
Nisus DSV is a broad-spectrum disinfectant, sanitizer, virucide, mildewstat, fungicide, and deodorizer labeled to kill dozens of strains of viruses and bacteria as well as small flies. It effectively disinfects residential and commercial sites of possible labeled viruses and bacteria.
Nisus DSV comes in an economical diluted concentrate and is applied by spraying, using a mop and bucket, heavy misting, or soaking. DSV can be used both for everyday cleaning and a wide variety of critical situations or emergencies.
DSV is also labeled to kill the following pathogens on hard, nonporous surfaces:
Human Coronavirus
Hantavirus
Hepatitis B Virus (HBV)
Hepatitis C Virus (HCV Herpes Simplex) Type1 Virus (ATCC VR260)
HIV-1 (AIDS Virus)
Influenza A/Brazil Virus
Influenza A H1N1 Virus (Strain A/PR/8/34 and ATCC VR-1469)
Surfaces should remain wet with DSV for 10 minutes for adequate control.
Residential Disinfecting and Sanitization Services
Our product is a strong disinfectant that is highly effective against disease-causing bacteria. It's also a sanitizer that can rid an area of germs and fungi that can cause illness and mold. In addition, it is a powerful virucide, capable of killing the viruses you've read about in today's headlines, as well as many others.
We disinfect and sanitize hard, nonporous surfaces for the following residential sites:
Homes – interior and exterior
Condos and apartments
Summer Homes
Kitchens – glass, laminated surfaces, metal, stainless steel, glazed porcelain, glazed ceramic, sealed granite, sealed marble, and plastic
Bathrooms – shower stalls, shower doors, bathtubs, toilets, sinks, and flooring
Garages and attics
Basements and cellars
Living rooms – glass, tables, chairs, windows, baseboards, shelves
Bedrooms
Porches and sunrooms
Boats, campers, trailers
Cars and trucks
We are one of the leading house cleaning and home disinfection service providers in the St. Louis area. The health and safety of our customers and employees are our highest priority during COVID-19. While we cannot control the unpredictability of this virus, we take preventative measures to limit its spread and impact.
Contact Gateway Cleaning Services Today!
At Gateway Cleaning Services, we recognize that a clean home is a happy home, which is why we are proud to offer complete residential cleaning services. With more than 25 years of experience, we offer professional, dependable, and affordable home cleaning services for you and your family. We provide a free in-home estimate.